LEMONGRASS & LIME - a thai bistro
---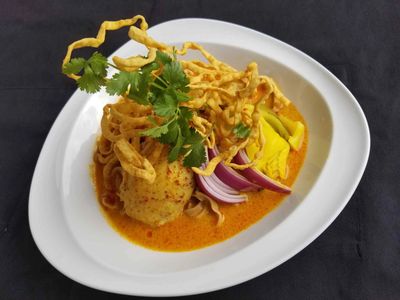 ABOUT US
Welcome to Lemongrass & Lime. Lemongrass & Lime is a collaboration of like-minded individuals who saw the opportunity to create an amazing Thai restaurant, in a growing health conscious community, of Northwest Las Vegas. Lemongrass & Lime will encompass street-style food and traditional dishes from Thailand, while creating a home-style atmosphere. Adhering to customary Thai culture, Lemongrass & Lime will feature an exotic cuisine, using the richest flavors, spices and freshest ingredients.
CONCEPT
Our concept is to provide healthy, quality, Thai food selections, for busy individuals and families. We make it very easy to fit the best choices of gourmet food into everyone's busy life. We emphasize healthy, quality-sourced authentic dishes infused with flavorful blends of exquisite spices and sauces from Thailand.
DISHES
Lemongrass & Lime offers both a classic and a modern interpretation of artfully created plates that combine the best flavors of sweet, sour, salty, spicy and bitter, to arouse your sense of taste. When our ingredients are harmoniously blended, in just the right way, our dishes burst with amazing flavor. A symphony of taste! We hope you enjoy your dining experience at Lemongrass & Lime.